Network Systems Service
We provide network system service in terms of Upgrade, Maintenance and Design and Development of Network Systems to our
clients here in Port Moresby. Apart from network support and maintenance we also specialise in Database Design and Website Development which we have successfully implemented according to business requirements.

Below are some successful project engagements with some of our clients...


Marie Stopes PNG Network Cable Upgrade

Data and Voice cabling expansion at Marie Stopes PNG Hitech Building. Expansion of Office Network structure.
The New Naked fish Restaurant

Development up at the New Naked Fish Restaurant carrying our the following ICT Projects: Computer Network Cabling, Server Systems Setup, Internet and Email Link Installations, Wi-Fi System Installations, Installation of Point of Sale(POS) and Telephone PABX System.
CTSL Wi-Fi System Installation

Successful installation of Internal Wi-Fi System at Comrade Trustee Services Limited (CTSL) for their Management Office and Board Room. Further engagement projects on Data and Voice Cabling
Climate Change & Development Authority

Engaged in a 9- month project doing 6-Floor Computer Network Cabling. Successfully completed 3 Floors and are now doing cabling on the 5th Floor. This also involve installing of Video Conferencing Facility and main Data Center on the Ground Floor.


Nambawan Super LTD

Engaged in Restructuring of the Server Room/Data Center as well as recabling and restructuring the main Communications Rack. Identify and Labelling of all the main Cables connected to the server.
Talisman-Energy Nuigini Limited now REPSOL

Engage with TENL, providing back-up IT Support at the Head Office here in Port Moresby. This has placed the company in a good platform and proven to be a very competitive ICT Service provider.



Software Developments
In terms of Software Development specialising in Design and Development of Websites and Database System depending on the client Requisitions..

Below are some successful project implemented.


Property Maintenance Billing System LJ Hooker Real Estate,
2016 Maintenance Billing System for
LJ Hooker's Tradesman.

Functions as: Operators entering Tradesmen Timesheets into the
system, processes the invoices that calculate the Labour
and Material costs. Also, process both open and closed Jobs
and stores electronic copy of Job card Maintenance Sheet.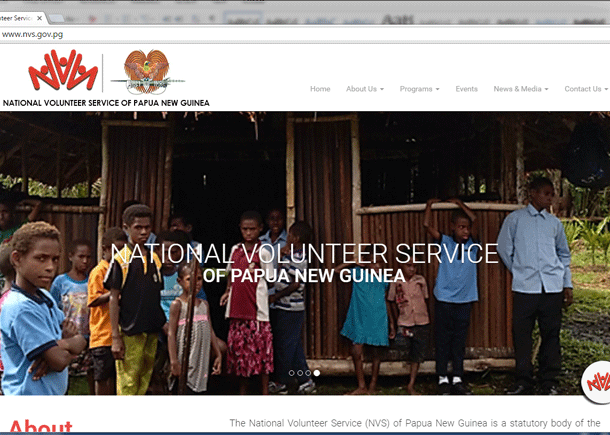 National Volunteer Service,
SAMBRA HOUSE, WAIGANI, 2016

Website Development for National Volunteer Service (NVS),
the not-for-profit organization under the Community Development
Department. It is now online awaiting its Official Launching.
The website address is
nvs.gov.pg.